Monkey is loving the dinos these days (they pop up in all sorts of
conversations
) and I thought I'd share some of the winning books and toys. We were lucky enough to get some great used books from an older boy who also loved dinosaurs (and pirates but that's another post). Here are a few books that Monkey has really enjoyed, again and again and again and again . . .

The Colossal Book of Dinosaurs - Monkey really loves chapter books and this book is no exception. Each chapter is a "day in the life" story of a specific dinosaur. I really enjoyed learning right along with him about how all the featured dinos lived. It's nice because you learn about each dinosaur via a story - not just a list of dry facts.
Jane Yolen and illustrator Mark Teague have a whole series of "How Do Dinosaurs X" books. They are short and sweet - rhyming format. The first half asks if dinos do X (all the naughty/funny things you probably shouldn't do) and then at the end it changes to how dinos really act (very well of course). The rhymes are cute but the illustrations are really what I love in this series. Each dino is named somewhere on the page as well - and Monkey loves to find each one.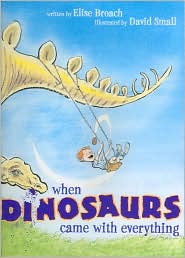 When Dinosaurs Came With Everything - written by Elise Broach/illustrated by David Small
We stumbled upon this book eating breakfast - it was free in the Cheerios box. I have to say I love that program - we've gotten some great books out of it. A few weeks ago we found it at the library so we could see it in large format. This is a great story about a boy who goes on boring "errand day" with his mom - but this day you get dinos with EVERYTHING. Needless to say, he loves it and his mom is none too happy. Great story - and I haven't gotten sick of reading it. High praise indeed!

Dinosaurs Forever - written by William Wise/illustrated by Lynn Munsinger
This book is packed full of funny rhymes about dinosaurs - some teach you things (like the three ages of the dinosaurs - Jurassic, Triassic, Cretaceous) and others are just for fun (like the dino ball or Allosaurus trying desperately to stick to her diet). I have to say I have gotten tired of reading this - but only because it's been on the menu for nap and nighttime for weeks now - and it's long! And if you skip one - he will call you out!
Last but not least - a great dinosaur set that gives good bang for the buck. It's the Animal Planet Big Tub of Dinosaurs. We got this as a gift and it's gotten so much use! I've seen it for many prices but Toys R Us has the best so far at $19.99 (and I HATE Toys R Us - but for the next dino lover's birthday party we're going to brave it). The dinosaurs aren't the most realistic - but 12 dinos for twenty bucks - plus TWO volcanoes (popular at our house) and trees (way too many trees) is a great deal. The play mat is way too flimsy - but who needs it? Lately we set up our the train tracks in dinosaur land - that's a lot of fun. So I would highly recommend this set - great for open-ended dino play and not too expensive. I've seen one dinosaur for over $20 before (very nice and all but really does Monkey care that it's accurate to the millimeter? - I think not!)
Playmobile also has a cool set with an exploding volcano - but only a couple of dinosaurs. It also comes with some scientists and lots of little, teensy equipment for said scientists (not a great toy for those with babies crawling around). It also has dinosaur bones that you can "find" and put together - fun! This set is more expensive than the "tub" but he does love to explode the volcano! We just add both sets together nowadays. Dino land takes over the living room most days.